Complimentary Dinner
Book Now
Book This Offer
Share This Offer
Your reimagined adventure awaits
Uncover African luxury with a retreat to Mokuti Etosha. Delight in remarkable encounters and adventures or simply enjoy pure tranquility at this Mokuti Etosha.
Book your bed and get a complimentary dinner.
Terms & Conditions apply.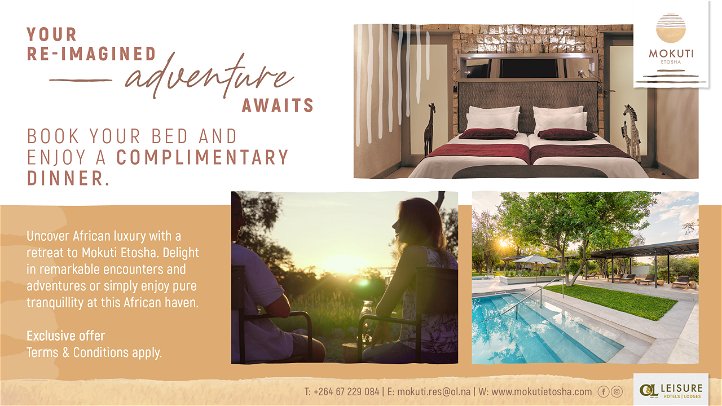 Valid from: 1 November 2023
Expires: 31 January 2024
Terms and Conditions
01.10.2023 till 31.01.2024 (Booking Dates)
01.12.2023 till 31.01.2024 (Stay Dates)
Bookings remain at the discretion of the property and is subject to availability and other factors at the time of booking.
All bookings to be handled by property reservations and front office team members.
Blackout dates may apply
Offer cannot be combined with any other offer.
Not applicable to existing bookings, may only be offered to new bookings.
Meals are not inclusive of Beverages.
Offer includes all taxes and exclude gratuities and incidental charges.
Cancellation Policy
Pre-paid, non-refundable, credit card or EFT deposit due at time of booking