Lentil Soup
Posted on Tue July 23, 2019.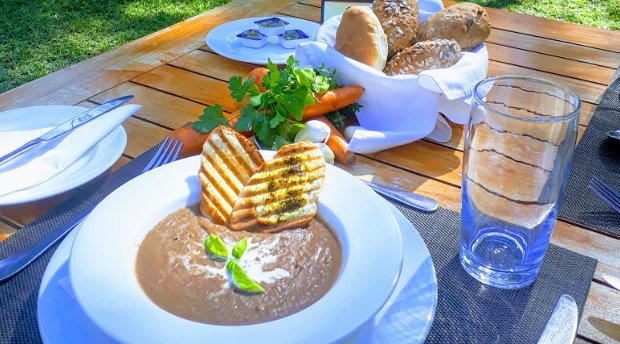 Ingredients
¼ cup extra virgin olive oil
1 medium yellow or white onion, chopped
2 carrots, peeled and chopped
4 garlic cloves, pressed or minced
2 teaspoons ground cumin
½ teaspoon dried thyme
1 large can (28 ounces) diced tomatoes, lightly drained
1 cup brown or green lentils, picked over and rinsed
4 cups vegetable broth
2 cups water
1 teaspoon salt, more to taste
Pinch of red pepper flakes
Freshly ground black pepper, to taste
Instructions
Heat oil in a large pot over medium heat. Add garlic and onion, cook for 2 minutes.
Add cumin, diced tomatoes and carrot peeled and chopped. Cook for 7 - 10 minutes or until softened and the onion is sweet.
Add all remaining ingredients including vegetable broth and black pepper whole and salt. Stir. 
Increase heat and bring to a simmer. Scoop scum on the surface off and discard. Place lid on and turn heat down to medium low. Simmer for 35 - 40 minutes or until lentils are soft.
Thicken Soup: Using a stick blender, do 2 or 3 quick whizzes to thicken the soup. Or transfer 2 cups to a blender, let it cool slightly, blend then transfer back into pot.
Add a touch of water if you want to adjust soup consistency. Season to taste with salt and pepper. Use red pepper flakes just before serving. Garnish with parsley if desired and serve with warm crusty bread slathered liberally with butter!
Recipe Notes
Lentils: This should work with any type of lentils except Puy Lentils (French lentils, small dark brown/black ones because they hold their shape). Red, yellow, brown, green. The colour of the soup will just be a bit different.
Storage: This freezes extremely well! Or keeps in the fridge.
To Serve
Chopped fresh parsley, for garnish
Warm bread, to serve