Mokuti Etosha Lodge, a gem hiding in plain sight.
Posted on Thu June 24, 2021.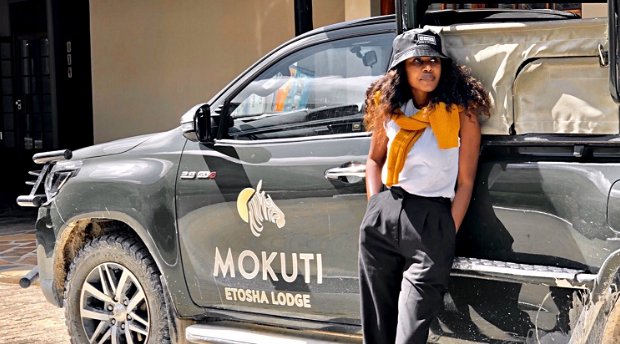 You know that cute top you have in your closet that you rarely wear but always find a reason to keep? Etosha Mokuti Lodge was that top for me.
I knew about it.
I saw and acknowledged it all the time.
I drove past it, but for some reason, had never been.
That finally changed when I made my way there earlier this year, and goodness what a sight!
First thing I noticed was how big it was.
Listen, the place is huge. Huge!
The lodge has a gym, a tennis court, a reptile park, one of the biggest pools I have seen in all my travels and can accommodate over two hundred people in their 100 chalets.
Wedding venue anyone?
I'm getting carried away, let's start at the beginning, shall we?
We arrived just a little over 4pm, which meant not much could be done that day. We got a brief tour of the lodge, and made our way to our beautiful chalet.
Rose petals, champagne on ice and the sweetest aroma welcomed us into out two-bedroom slice of luxury, which came with a mini bar, ensuite bathroom and best of all, a smart TV! The complimentary WIFI meant we could enjoy the smart TV to its fullest potential. What a win!
After a full buffet dinner, we took to bed earlier than usual because we needed to gather enough strength (and rest) for our jam-packed Saturday.
Saturday morning started off with a hearty breakfast, buffet style. The chicken livers pretty much stole my heart, delicious!
Next on the agenda was the morning game drive.
I was ready.
Closed shoes? Check.
Gimbal? Check.
Phone charged to 100%? Check and check!
Let's go!
Just so you understand my excitement, let me give you a back story.
I have been to the Etosha National park more than twice, excited to see the wildlife every single time and disappointed each time because the best thing that's ever happened on one was seeing a lion at a distance. A very long distance.
Imagine my excitement when we not only saw one but an entire pride of lions, two cheetahs, more elephants than I have ever seen in my life and gorgeous giraffes. Best game drive of my life to date.
We moved right into exploring the reptile park after that.
I genuinely fear snakes so this activity was very difficult for me. I tried as much as I could to stick it out till the end but after what felt like an eternity of imagining snake bites, I left.
Do I recommend this activity?
From an information perspective, definitely. The guide is very well informed and answered each and very question posed to him. He was kind, he fed the snakes as we watched and even moved further back when requested to by scared guests, one of them being me.
On the other hand, I had nightmares two straight days after the adventure so if reptiles genuinely scare you, I would say rather you not part-take.
Now, if you keep up with my travels, you know I value relaxation just as much as I do adventure.
The newly opened Omulilo spa was perfect for this.
We were received with warmth by Ndapanda (we had a great time realising we share both first and second name) filled on our health forms and were directed to the bathrooms for our robe change.
Omulilo spa is gorgeous! There are touches of greenery, a balance of earthy tones, calming scents and the most relaxing music.
We changed, and headed in for our couple's massage.
The massage happens at the same time, by two different masseuses but interestingly, does not happen at the same time.
This did not take away from the experience.
It was still intimate.
Still beautiful.
Calming
And most of all, it got the job done.
All the tension in my body was released, more especially from my back which is my problem area.
We rounded the spa session up with some time in the jacuzzi and left feeling very relaxed.
The last and my favourite part of our trip was the romantic sundowner we had to end our day.
I always say nothing beats northern sunsets and Mokuti Etosha Lodge proved this theory. We caught it while having some of the most delicious snacks and wholesome conversation. Once in a lifetime!
Would I recommend Mokuti Lodge as a baecation destination?
In a heartbeat.
The reason?
Service is amazing, the food made me go for seconds each time, and the people treat you like royalty.
- Ndapanda Haininga