O&L LEISURE REVEALS NEW MOKUTI ETOSHA BRAND
Posted on Mon March 6, 2023.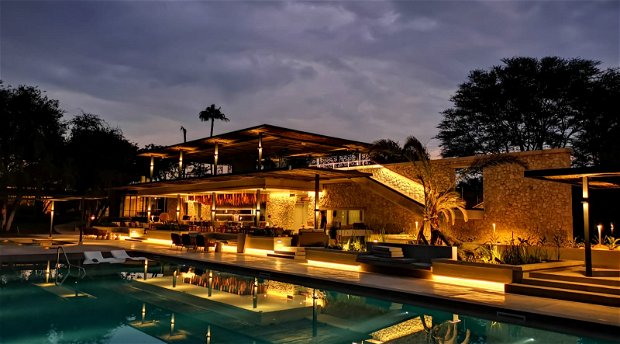 O&L Leisure, a subsidiary of the Ohlthaver & List (O&L) Group, revealed the new look and feel of Mokuti Etosha, one of O&L Leisure's lodges, situated a mere 40 metres from the Etosha gate. The lodge's reception, main restaurant and pool bar area, including a brand-new kiddies pool, have undergone a complete overhaul over the last 15 months. The lodge has been transformed into a contemporary Africa Re-imagined, offering the ultimate safari experience, whilst still preserving some facets of its 32-year character and heritage such as Mokuti's lush gardens inhabited by the much-adored squirrels and Damara Dik-Dik, amongst others.
At the brand reveal, Norbert Wurm, Managing Director of O&L Leisure, enthused that the new logo encapsulated the overall identification of Mokuti Etosha. "Mokuti Etosha is Africa Re-imagined. While we can find some familiar elements, we will at the same time encounter an enhancement that will lead to unique, different, and warm experiences. Everything here has a story and a reason, from the buildings to the different activities and occurrences."
Wurm added that the new logo represented the colours of nature in and around Mokuti Etosha, while the magnificent sunsets and sunrises experienced at Mokuti Etosha as well as the endless horizons of the Etosha pan were also featured. "A logo that inspires tranquility and leaves space for imagination. Africa Re-imagined, embraces the imperfect imperfections of nature and our people." 
Etienne Fourie, General Manager at Mokuti Etosha, expressed his delight with the new experiences and adventures that the lodge will offer. "We aimed to create an unexpected, memorable and unique experience that guests can both love and admire, as captured by our O&L Purpose 'Creating a future, enhancing life'. With the help of our designers and architects, the attention to distinctive African designs of walls, roofs and floors is unique and this Africa Re-imagined detail is enriched by scents and sounds throughout the lodge. We know that guests will enjoy Mokuti - which incidentally means in the bush - on a whole new tranquil level with raw, authentic, and immersive experiences. Once the final touches have been completed, guests can look forward to the full Mokuti Etosha Africa Re-imagined."
Mokuti Etosha's inaugural opening is slated for May 2023 while doors will be open for guests as from 5 March 2023.