O&L Leisure Today - December 2018
Posted on Wed November 28, 2018.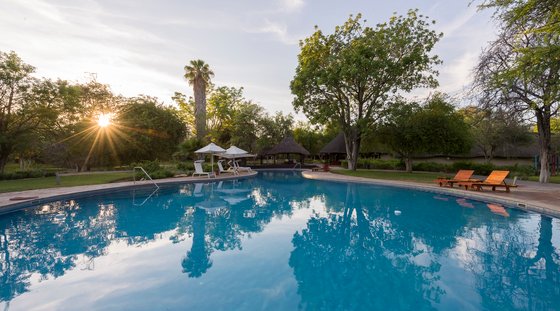 Mokuti welcomes new GM in 2018
Words by Ivan, GM Mokuti Etosha Lodge
On the 2nd of July 2018, I was warmly welcomed by the staff and management of Mokuti Etosha Lodge as General Manager. Prior to arriving at Mokuti I was the deputy general manager at the Strand Hotel in Swakopmund where I had started in July 2015.
It is indeed amazing how the months have gone by so quickly and we are already coming to the end of an eventful and most memorable year. Over the past months a great number of milestones have been attained at Mokuti and I believe the entire team should be extremely proud of themselves. At the same time, we are absolutely grateful to all our guests, suppliers and business partners who have remained loyal to us over the past year and we are optimistic that we will continue to work together in 2019.
A number of key events have been received with positive reflections from our team and other stakeholders.

The Lodge Bedroom Refurbishment and Expansion- The refurbishment and expansion of the bedrooms, focusing on 26 rooms and increasing capacity from 106 to 114, has been a successful exercise with lots of positive feedback from our guests 
The gardens and grounds, that have always been beautifully maintained at Mokuti, have received additional attention and an upgrade to further enhance the guest experience and visual identity of the Lodge. Our garden and grounds team are proud of what they have
Training and development of our team members remains at the core of our focus. One key area that has been attended to was waste management and recycling training for all departments. A program of managing waste and recycling is now in place. This is very important to us as a business and it puts into practice one of our organizational values which is " Naturally today for tomorrow"
Community Relations - Mokuti Etosha Lodge has continued to participate in important community initiatives that promote sustainability. We are a member of the Ministry of Tourism Etosha East Stakeholders Forum whose mandate is to observe, monitor and recommend improvements to the operating environment. Key focus areas have been; infrastructure maintenance in Etosha National Park, measures to curb wildlife crime and the Park Visitor experiences. Mokuti Etosha Lodge was also privileged to participate as a sponsor, amongst other sponsors, to the second Blue Crane Census that took place as an aerial and ground survey in August 2018
Service Delivery Improvements - New Website and Wi-Fi Upgrade. We are very excited about the launching of an appealing and much more customer-centric website that went live in September 2018. In line with this development, we are currently upgrading Wi-Fi at the property to improve access right across the facility at Mokuti. Progress to date is going well and we anticipate completion by mid - January 2019.
Celebrity Guest Visit in October 2018 – Charley Boorman - We were privileged to host once again, Mr Charley Boorman.  Charley is an English TV presenter, travel writer and actor. He is known for his enthusiasm for motorbikes as demonstrated in several documentaries of his travels including two with his friend, actor Ewan Mcgregor. Charley stayed at Mokuti with fellow motor-bikers on the 12th September 2018. Our team was glad to host him once again and the highlight of his stay was an amazing Sundowner experience , delectable poolside dinner and the hospitable experiences from our staff.
As the year comes to an end , our teams remain positive and excited for what the new year promises and remain committed to hosting all our guests in a warm, welcoming, caring , helpful and friendly manner always.